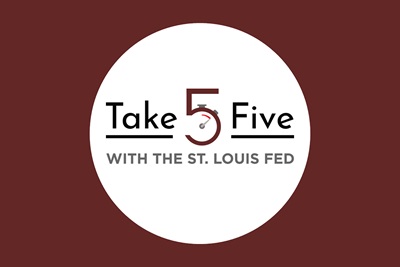 TakeFive: Fed Stays the Course on Rate Increases, Monitors Credit Conditions
In the latest edition of Take Five with the St. Louis Fed, Senior Economist Kathleen Navin discusses Federal Open Market Committee's (FOMC's) March 22nd policy statement and her views on the economy.

3/27/2023
Read more

about Fed Stays the Course on Rate Increases, Monitors Credit Conditions
In the last several years, fintech firms and other novel financial firms have expressed interest in obtaining master accounts and services with the Federal Reserve. After several proposals and rounds of comments from interested parties, the Federal Reserve Board in mid-August finalized guidelines for evaluating nontraditional financial institutions' requests to be granted master accounts and access to the Fed's payment services.
In mid-June, the Federal Reserve released the Expected Losses Estimator (ELE), a spreadsheet-based tool designed to help community banks calculate their allowances for credit losses under the new Current Expected Credit Losses (CECL) accounting standard. As with the SCALE tool released last summer, the ELE will assist small and less complex banks in complying with CECL.
U.S. banking conditions remained strong overall in the second half of 2021, with robust capital and liquidity, in addition to improved asset quality. That's the conclusion of the Federal Reserve Board of Governors, which recently released its latest Supervision and Regulation Report (PDF). The semiannual report covers banking system conditions, as well as regulatory and supervisory developments for the institutions under the Fed's supervisory umbrella.
Take Five is a popular video series featuring St. Louis Fed economist Dr. Kathleen Navin. In each video, Navin provides a quick, concise synopsis of the most recent meeting of the Federal Open Market Committee (FOMC).